Sports
CLTA-AITA Championship Series CS-7 Tennis Tournament Quarter Finals Results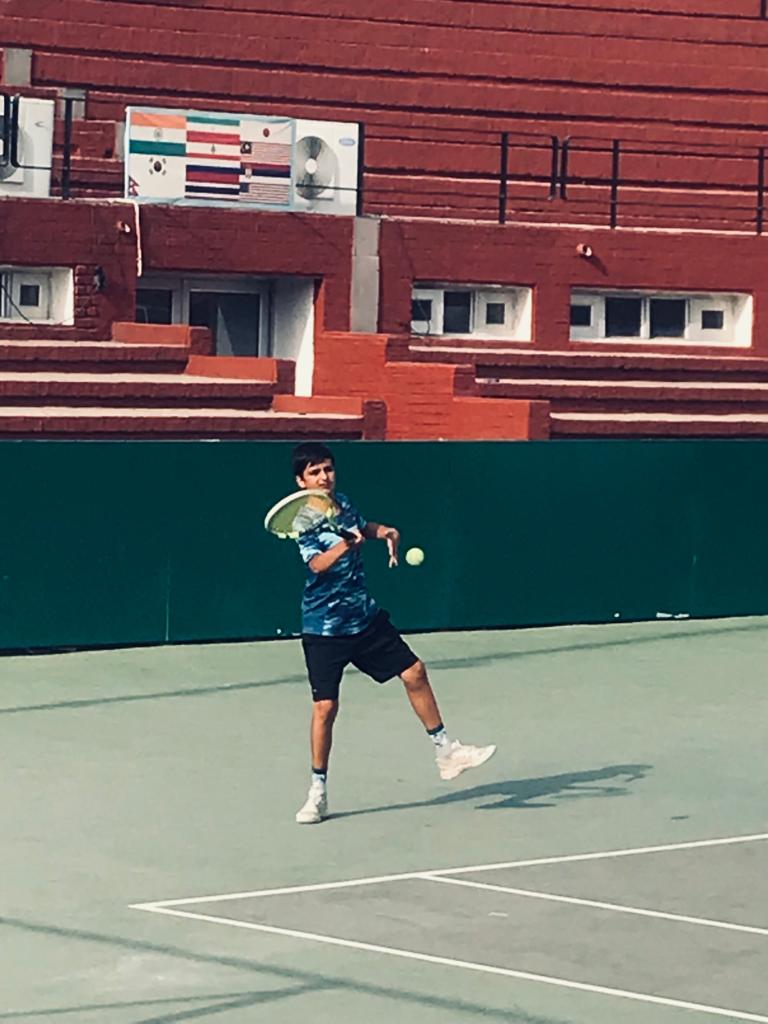 St. Stephen's School CLTA-AITA Championship Series (CS-7) Tennis Tournament April 2022 at CLTA
Chandigarh Devvret upset 4th seed Vaibhav Saini
CLTA, Chandigarh, Tuesday, April 20th, 2022
Chandigarh Lawn Tennis Association is organizing CLTA-AITA Championship Series (CS-7) Tennis Tournament for Boy's & Girl's under-12 & 16 from 18th to 22nd April 2022. This tournament is sponsored by St. Stephen's School, Sector 45B, Chandigarh.
Devvert Singh Kadian advanced into Quarterfinals in the Boys under-16 singles. Devvert defeated 4th seed Vaibhav Saini in straight sets. Both players played good quality tennis in 1st set. Devvert won the 1st set in tie break 7-6(3). In the 2nd set Devvret maintained his momentum and dominant throughout the set. Finally Devvert won the 2nd set and match easily without getting much pressure 6-2. Love Pahal, Anuj Paul, Parmarth and Sumukh also advanced into Quarterfinals in singles
In the Boys under-12 singles Pre-Quarterfinals 3d seed Prabhroop and Yug moved into Quarterfinals. Prabhroop blanked Bhavesh 6-0, 6-0. Yug Raj Mahi won from Mohit in a 3 setter marathon match 4-6, 6-4, 6-4. Ayaan Chandel upset 2nd seed Ribhav Saroha 6-2, 1-6, 6-2 in a 3 setter match.
4th seed Paavni Panwar defeated Kashvi Singh 6-0, 6-0 In the Girls under-16 singles Pre-Quarterfinals. Aahana Bhalla advanced into Quarters in the Girls under-12 singles. Aahana defeated Saisha Rattan 6-0, 6-0 in straight sets.
The Boys and Girls singles Quarterfinals and Boys under-16 doubles Semifinals rounds matches will be played at CLTA Complex, Tennis Stadium, Sector 10C, Chandigarh on Wednesday, the 20th April, 2022 from 08:30 A.M. onwards.
The results are as under:
Singles Pre-Quarterfinals results:
Boy's under-16
1. Anuj Pal (PB) [5] bt. Harmahir Singh Harika (CH) 6-1, 6-1
2. Meetpaul Singh Baweja (PB) [3] bt. Abhinav Sangra (CH) 6-2, 6-1
3. Devansh Parajuli (PB) bt. Pragun Thakur (CH) [8] 6-2, 6-2
4. Keshav Dangi (CH) bt. Himanish Brinda (PB) [7] 6-2, 6-0
5. Devvert Singh Kadian (HR) bt. Vaibhav Saini (HR) [4] 7-6(3), 6-2
6. Parmarth Kaushik (CH) [6] bt. Aarav Bishnoi (CH) 6-1, 7-5
7. Sumukh Marya (PB) [2] bt. Sachit Thakur (CH) 6-4, 6-1
Boy's under-12
1. Anay Pandey (UP) [1] bt. Shaurya Bisht (CH) 6-1, 6-2
2. Tanishq Makhija (HR) bt. Samarveer Singh Pundir (UK) 6-1, 6-1
3. Prabhroop Singh Kalsi (PB) [3] bt. Bhavesh S (HR) 6-0,6-0
4. Sankalp Sachdeva (PB) bt. Pranay Saini (HR) 6-3, 6-2
5. Divyansh Jindal (HR) [7] bt. Akshpreet Singh (PB) 6-7(3), 6-1, 6-4
6. Bhavish Sharma (PB) [4] bt. Pranjay Siwach (HR) 7-6(3), 6-7(4), 7-6(7)
7. Yug Raj Mahi (PB) [8] bt. Mohit (HR) 4-6, 6-4, 6-4
8. Ayaan Chandel (CH) bt. Ribhav Saroha (PB) [2] 6-2, 1-6, 6-2
Girl's under-16
1. Rabiah Dullet (PB) bt. Samaira Sidhu (CH) 6-0, 6-0
2. Paavni Panwar (CH) [4] bt. Kashvi Singh (HR) 6-0, 6-0
3. Reet Arora (HR) bt. Diza Juneja (CH) 6-0, 6-0
4. Khushi Dangi (CH) bt. Akanksha Singh (PB) 6-1, 6-2
Girl's under-12
1. Navya Singla (CH) bt. Adhya Bisht (HP) 6-3, 1-6, 6-1
2. Amaira Aulakh (PB) bt. Saanvi Verma (HR) 6-3, 6-0
3. Aahana Bhalla (CH) bt. Saisha Rattan (HR) 6-0, 6-0
Doubles Quarterfinals results:
Boy's under-16
1. Parmarth Kaushik (CH) / Keshav Dangi (CH) [1] bt. Mohit (HR) / Pratyush Gupta (HR) 6-0, 6-0
2. Anish Sharma (CH) / Devrat Singh Kadian (CH) bt. Love Pahal (CH) / Aarav Bishnoi (CH) [4] 7-5, 6-4
3. Gaurish Madaan (CH) / Sachit Thakur (CH) [3] bt. Arnav Singh Rajput (CH) / Shaurya Goyal (CH) 6-2, 6-1
4. Abhinav Sangra (CH) / Arnav Chaudhary (TS) [2] bt. Ayush Singh (HR) / Dilshaan Singh (PB) 6-3, 6-1