National
After Aaftab and Shraddha case Now Dildar Ansari and Rabita Pahadin same case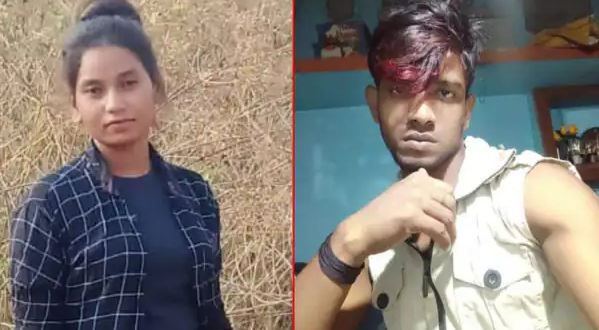 In Jharkhand's Sahibganj, behind the Anganwadi center, a woman's leg and cut pieces of chest were found which were being eaten by dogs.
In Jharkhand, the incident was executed in a more horrifying manner than the Shraddha murder case in Delhi. In fact, pieces of human organs were found behind an under-construction Anganwadi center of Boria Santhali in Sahibganj, creating sensation in the area. The incident came to light on Saturday evening when a man saw a dog eating the cut pieces of a woman's leg and chest behind the Anganwadi center. The police have arrested the accused husband Dildar Ansari.
Know what is the matter?
A man in Sahibganj has been accused of chopping his 22-year-old wife Rabita Pahadin into twelve pieces with a cutter. The deceased was a resident of Rabita Pahar. She lived with husband Dildar Ansari at Beltola house after love marriage. Dildar is alleged to have started quarreling with his wife only a few days after the marriage. Finally fed up with the quarrel, he made a dangerous plan and then killed his wife and cut her body into 12 pieces with an electric cutter. Then threw it behind the Anganwadi center. It is also revealed that Rabika was Dildar's second wife.
Dogs were dragging the severed body part
According to media reports, the mutilated body of the woman was recovered in 12 pieces behind an Anganwadi center located at Santhali Momin Tola of Borio police station area at 6 pm on Saturday. It has been told that dogs were dragging the severed part of the body, then the matter came to light and the police was informed. Then the police team arrived with a large force. During this the dog squad was also with him.
Aftab gave painful death to Shraddha in Delhi
Significantly, Aftab Poonawala, who was living in a rented house in Delhi's Chhatarpur area, brutally murdered his girlfriend Shraddha after a quarrel. After this, he cut Shraddha's dead body into 35 pieces and kept those pieces in the freezer for 18 days. He slowly kept throwing the pieces of the dead body in the forest. The investigation into this chilling murder is currently underway.